Still Wild Georgia - Cat-Skiing in Goderdzi
Cat-Skiing in Goderdzi Resort (Lesser Caucasus)
Cat-Skiing in Goderdzi Resort (Lesser Caucasus)
Goderdzi mountain resort is located in Ajara mountain region close to Black Sea Coast in Khulo valley.
This diamond in the rough is only 110 kilometers from modern Batumi - a charming, sunny sea resort, but it's only accessible by 4x4 car or
sometime even snowcat. Crowd factor here still is very low.
Snow in Goderdzi
The uniqueness of the Goderdzi climate is driven by the constant mixing of mountain air with warm humid air masses of the Black Sea. Is the reason for a large number of snowfalls - they usually occur here once a week and the height of the snow cover reaches 7 meters. Average annual snowfall: 10 meter/year - 15 meter/year
Snow Pack in Goderdzi is Coastal. General characteristics of a Coastal Snow climate and snowpack are: Frequent snowfall, with relatively large amounts in each storm, High density newly fallen snow, Relatively warm temperatures, Coastal location, Deep snowpack, Most avalanches occur during or soon after storms, within storm snow layers, Infrequent persistent weak layers in the snowpack, Lower avalanche danger.
Goderdzi is the snowiest ski resort in Georgia and one of the best places in the world for cat-skiing. Some riders named it Georgian Japan because of snow quality and deepness.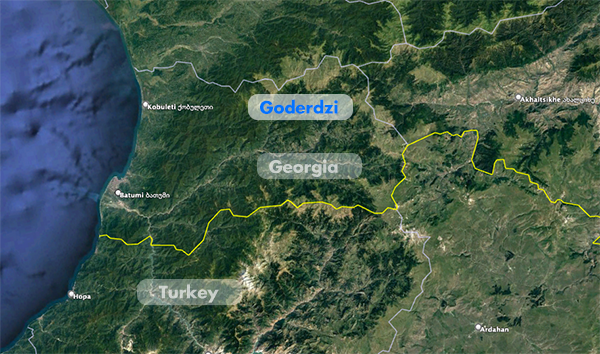 Terrain and elevation
Dominant Terrain Type: Open Terrain, Tree Runs. Vicinity of Goderdzi are perfect forest skiing (beech, spruce and fir) and open fields, in some places descent between outlandish the wooden summer houses of the shepherds.
Our base, Hotel Ambassadori Goderdzi 5*, located at 1700 m. Above sea level.
Highest point of the resort - 2450 m.
When is the best time to go?
February is considered prime time for Lesser Caucasus: the terrain has filled in, the snow is deep but still cold and dry, and there is plenty of day light.
Accommodation
The best and only one hotel in Goderdzi - Hotel Ambassadori Goderdzi. Lodging here incredibly sumptuous - after a long day in the hill, you can look forward to the full fine dining experience and high end spa facilities. After all, you need to make sure you recover fully before the next day's powder pillaging!
And be sure - this hotel is not the best because the only one - a hotel of this level, according to the professionals of the winter tourism market in the region, is not available in other Georgian resorts today.
Don't compromise on luxury or adventure. Have both at GeoCatSki Adventures, still a diamond in the rough.
Hotel Ambassadori Goderdzi: https://www.ambassadori.com/goderdzi/hotel
Our Snow Cat
We are glad to present you our dream car - the PistenBully 600 Polar is more than a regular snowcat. Most powerful in its class, quiet, environmentally friendly, efficient, safe and comfortable. This is our mountain limousine.
4 reasons to choose GeoCatSki Adventures
Luxurious hotel setting.
Great terrain - famous in Georgia for its snow powder.
Fine dining.
Experiensed and well known guides.
Choose Cat-Skiing packages - week or daily...
Payment, Refunds and cancellations of cat-skiing tour
If you have any question fill in the form below to contact the Goderdzi Cat-Skiing team