Guesthouses in Goderdzi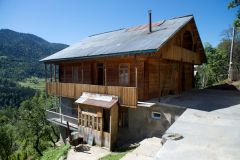 Private traditional village house with hospitable hosts
Large two-storey wooden house, owned by a hospitable family. Food is very good, homely, with a variety of Adjarian cuisine dishes.
The house is located in the nearest to ski resort village (3 km to ski lifts), for an additional fee there is a possibility to order a daily shuttle service to the ski lifts.
Could not load hotel data. Invalid response.
It has been read
4558
times

Previous article
Hotel Goderdzi

Next article
Goderdzi Chalet