Hotel Meteo (Goderdzi Pass )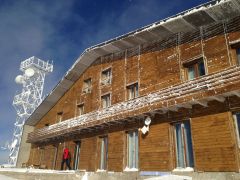 The first hotel in Goderdzi, reconstructed from an old weather station
Goderdzi Hotel - the first hotel in the resort. Originally designed for the administration of the resort and international experts on designing and construction of ski resorts. The hotel was renovated from an old weather station.
The descent to the ski lifts and return to the hotel from the slopes on skis is possible only for experienced riders. In winter time access to the hotel by car is not possible, the transfer can bring guests just to the start of ski lifts, then you need to use the services of a snowmobile or snowcat (the approximate cost of services of GEL 100-250)
Could not load hotel data. Invalid response.
It has been read
6444
times